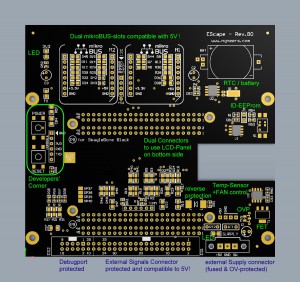 Hello to all supporters and friends of our EScape-project!
All tests on our first handmade prototypes are done and the first official release is in preparation… we have done some little improvements with the next Revision (B0) :
1. We (all) missed the reset- and power-button, the bbb pushbuttons could not be accessed because the board is mounted face down.
2. We added the original Console-Header (TTYO0) outside off BBB-Area, to make Debugterminal available again for standard FTDI–Cables.
3. We replaced solder jumpers by smd dilswitch for an easy ID-Adress selection.
Over the next weeks we are going to produce a couple of final prototypes. Afterwards we will make plans to launch an official betatest.

If You are interested to become a betatester, please register on this board to get more information …