Responsible for contents
Helmut Neumark (adress below)

 Name and und Address: *

Neumark Elektronik
Schumanstrasse 18
DE-52146 Würselen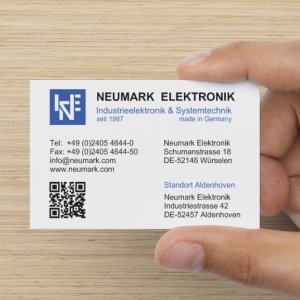 *we appreaciate using our Contact-Form
The use of the contact data published within the scope of the imprint obligation by third parties for sending unsolicited advertising and information material is hereby expressly prohibited. The operator of these pages expressly reserves the right to take legal action in the event of the unsolicited sending of advertising information, for example by spam mails.

 Local Court
Amtsgericht Aachen, Germany

 VAT-ID Number
according to §27a of German tax law:
DE 121 814 816

 © Copyright 1987 – 2017
All Rights reserved.
Trademarks, Descriptions, Pictures and Graphics are protected by law and may not be copied, changed or used without our permission.

 Note on liability
Although we carefully control contents, we do not assume any liability for the contents of external links. Solely the operators of these pages bear responsibility for the contents.
.